About this guide

a bit about yours truly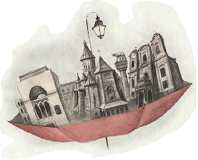 Dear guests, find below a small selection of restaurants that I am usually happy with, based on my experience and that of some of the tourists that rated their food and service above average. Also, see Part 1 of this blog entry for a list of local dishes (including their original names here and there), both savory and sweet that you may enjoy during your stay in Timisoara.
And now, for a little visual aid, check out my yummy album on Facebook:
https://www.facebook.com/pg/Timisoara.Tour.Guide/photos/?tab=album&album_id=820200404664983
Having said this, I wish you "Poftă bună!" and patience, service in Romania is usually not that fast ;)
Banat Specialties
Stradivarius Restaurant – they make a mean pork knuckle on cabbage, yumm. There's a special section for Banat Specialties in their menu.
Casa Bunicii Restaurant (Grandma's House) – try their eggplant spread, vegetable spread or mashed beans with caramelized onions as starters. Almost everything on the menu has a local touch.
The typical Banat cuisine is a fusion of all the local cultures that have helped shape the spirit of our region and town (Romanian, German, Hungarian, Serbian and so many others).
Traditional Romanian cuisine
Beraria 700 – live music Wed, Thu
Curtea Berarilor
Fabrica de Bere (the restaurant of the Timisoreana Brewery)
Hip and Artsy
Homemade Restaurant (also vegetarian friendly)
Musiu
Both restaurant serve very creative food and beverages.
Pub food
The Drunken Rat Pub - probably the best ribs in town
Vegan and Raw Vegan
Bio Fresh
Radha
*The list may be improved, so feel free to contribute. Write to me at contact@timisoaratourguide.com
P.S. Nothing beats eating organic home cooked meals in a traditional countryside barn. Check out my day trip to Stanciova for more info:
http://www.timisoaratourguide.com/en/timisoara-city-tours